If you want a great game to occupy your kids, look no further than the popular Toca Boca game, Toca Life: Neighborhood.

Toca Life: Neighborhood offers kids an immersive, fun game that allows them to play a game of life how they want to.
What is Toca Life: Neighborhood?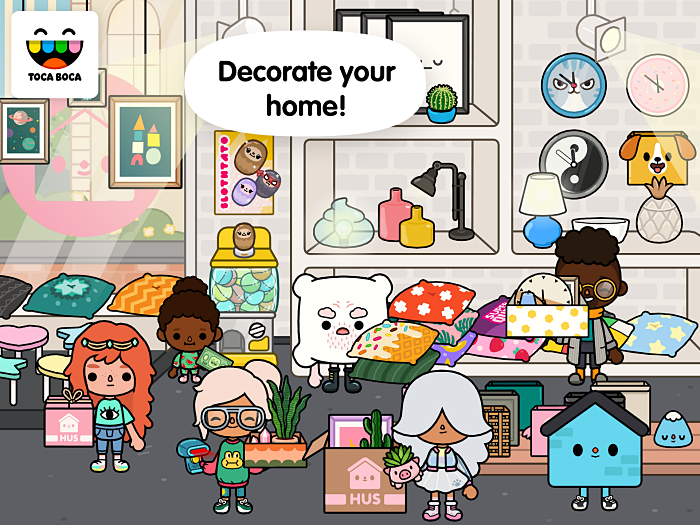 Toca Boca has a long history of releasing digital video games for kids and Toca Life: Neighborhood is one of their best. The game is set in a brand-new neighborhood, and players can basically live how they want to. They can choose their home, decorate it however they want, make new friends and hang out with them, and much more. Part of the Life World app series, Neighborhood, allows kids to build a story using their imagination and making choices they can't make in the real world.
Toca Life: Neighborhood Features:
Toca Life: Neighborhood provides players with plenty of fun and cool features:
Four apartments, each with its own theme – pick one or live in all of them
Settle into your new home and ask your neighbors to help you set up and decorate
Go to the Interior Design store and pick out furnishings, decorations, and more
Head to Rob-o Café with your new friends and enjoy a meal or a drink – four smoothie flavors to choose from, all served by a giant robot
23 new characters
Take a photo at the photo booth with family and friends, and choose from a choice of filters.
Play the Slothtato toy machine and win the Sloth toy
Find the secret hidden in the neighborhood – the Rob-o Disco club
Find the creatures living in the elevator and make friends with them
Many more features
Toca Life: Neighborhood costs $3.99 to purchase, and some in-app purchases are available. However, you don't need these to enjoy the game, and it is advisable to set the purchases to require your authorization or disable them all together in your settings app.
How to Download Toca Life:
Allow your kids' imaginations to run riot by downloading this game onto your iOS or Android tablet or phone. Click on the download buttons below.
Toca Boca is well-known for releasing great video games for kids, safe games that allow them to get creative without getting into trouble. Toca Life: Neighborhood is no exception, providing kids with a way of living a life they are too young to live in the real world. The neighborhood is a good app that allows your kids the chance to live in an apartment, make new friends, go shopping, go for a meal, and much more, so download it today and introduce them to a new life.