There is no better way to pass time than by listening to music and Spotify Plus is the music streaming app of choice for millions of users these days. However, there is an alternative that is fast gaining ground on Spotify++ and its called Deezer.

Like Spotify , Deezer comes in two flavors – free or subscription. The free version is sufficient for some but if you want any extras you need to choose between a premium subscription for $9.99 per month or an elite subscription for $14.99 per month. At least you did, until Deezer++ was released.
What is Deezer++ ?
Deezer++ is a new version of Deezer that has been modified, providing not just the free features of Deezer but all the premium and elite ones as well, all free. Not so long back, a jailbreak would be needed to get this kind of app but now you don't. Read on for more details on what Deezer++ offers and how to download it using an installer called Panda Helper.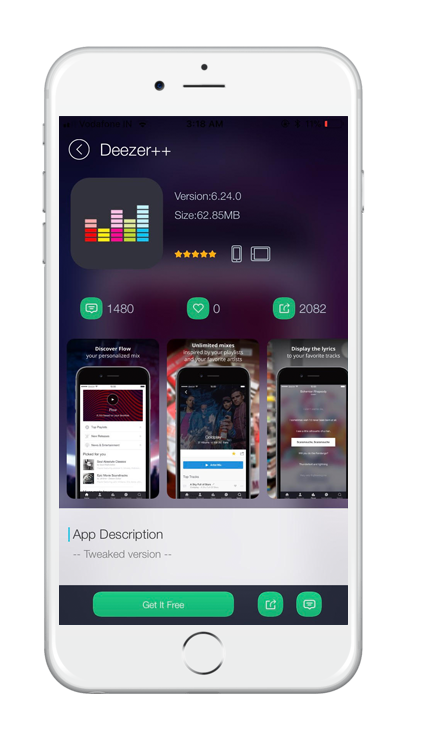 Deezer++ Features :
As well as the stock features of the free version of Deezer, you also get:
More than 50 million tracks to choose from
Stream your music or download it to listen to later
Unlimited number of track skipping
Top-quality sound
One account can be used on several devices
You don't need to jailbreak
Easy download
Free to use
Supports iOS 7 through to iOS 12 on all compatible iOS devices
Loads more features
How to Install Deezer++ :
Downloading Deezer++ requires Panda Helper app to be downloaded first. This is an external installer, a Cydia alternative that is full of apps and games, many modified like Deezer++. Here's how to install Panda Helper and then Deezer++.
Method 1 : using Panda Helper
Follow the steps in the linked guide to download Panda Helper onto your iPhone, iPad or iPod Touch
Open Panda Helper
Type Deezer++ into the search box
Click on the search result that has the same iOS version/device as you and follow the instructions on the screen to install Deezer++
When you see the Deezer++ icon on your homepage, the installation is successful and you can start listening to your favorite music.
Method 2 : Deezer .IPA File

There is another method that is a bit more involved. You need to use Cydia Impactor to sideload the Deezer++ .ipa file onto your iOS device :
Download the .ipa for Deezer++ from this ( link )
Download Cydia Impactor and use it to install the .ipa file to your device. You will find a fully detailed guide on how to do this at the link below.
https://cydiaimpactor.app
Stop Deezer++ Crashing :
Deezer++ is not an official iOS app and, as such, Apple will revoke its certificate so the app crashes. A simple way to stop this happening is to use a VPN on your iPhone or iPad.
Deezer++ Alternative :

While Deezer++ is a great app for music streaming, you may want to try the popular Spotify app. A modified version called Spotify++ offers the premium features of Spotify for free, again without needing to jailbreak. Check out the link for more details.
Try Deezer++ and see how you get on with it. It is free and you can always delete it if you don't want it. Share your views on Deezer++ with us in the box below and follow us on Facebook for the latest updates and more app recommendations.
*Please let us know if the Download LINKS on this page are NOT WORKING.