Minecraft is fast becoming one of the most played games in the world. Starting out as a small Windows game, its popularity has exploded, and it can now be played on just about any platform available, including iOS and Android mobile platforms. A simple game, it has one goal – to survive against all the odds.

Interested?
Then read on for more details.
What is Minecraft?
Minecraft is a game of blocks, that is the easiest way to describe it. But it's more than that. It's a game where you build your world from the ground up, starting with your own home. It's a virtual game of several different game modes, interaction with other players, and a lot of fun. Survival is the name of the game, and it's down to you to get creative in the way you do it. The resources are there for you to build, craft, resources, hunt and raise food, fight off the enemies that crawl out from their hiding places after dark. How much you get out the game depends entirely on what you put into it.
How cool is that!
How to Download Minecraft:
Downloading Minecraft is not difficult, but it isn't a free app. All you need to do is head to the app store for your platform and download it:
Minecraft PC vs. Minecraft PE: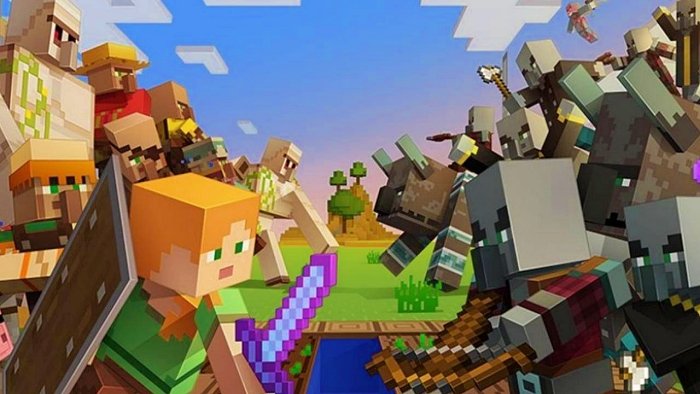 Both versions of the games, each covering multiple platforms of their own, are pretty much identical in terms of what you can do in the game, the resources, and the general gameplay. The differences lie in other places. For example, the PE version for mobile devices offers far better parental controls, and other players have to be invited to join a multiplayer game.
The PC version offers integration with external mods and connections with external servers – you don't get that with the PE version although you so have the option of additional resources and skins via in-app purchases.
Both games are, in terms of gameplay, cross-platform. No matter which mobile or desktop platform you choose to play on, you can join with other players on different platforms. It all comes down to which version you prefer to play – desktop or mobile.
Stay with me
Minecraft Features:
Minecraft is a feature-packed game with some of the best features being:
Get as creative as you like
Play on any platform you want
Build your home and expand
Explore for resources and hunt for food
Raise your own food
Build weapons, tools, armor and much more
Battle monsters galore after dark
Interactive game – as much or little as you want
Play Adventure, Creative or Survival mode
Lots more fun features
All that's left to do is
Download Minecraft and enjoy one of the most addictive games ever released.
Get more cool app recommendations by following us on Facebook.
Additional Information:
---
| | |
| --- | --- |
| App Name: | MineCraft |
| Price: | $6.99 |
| Platform: | iOS |
| Developer: | Mojang |
*Found a broken link? Help us by reporting it below.