Are you new to the world of messaging apps, or are you looking for something a little different from what you use now? Either way, Snapchat is a great messaging app with plenty of cool and fun features.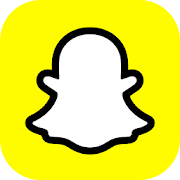 The best bit?
It's completely free
Let's dive in
What is Snapchat?
Boasting over 200 million users per month, Snapchat is one of the top media apps in the world. And it is one of the most entertaining, offering a fun way of interacting with your friends and family. Because Snapchat opens in your camera app, using it is simple – take a Snap and share it.
It sounds simple
And it is
App Features:
With Snapchat, you get a whole host of fun features:
Free to use
User-friendly interface
Opens in your camera app, simply snap and go
Updated every day with new selfie lenses and features
Stay in touch in several ways including Group Stories and Live Messaging
Play games with your face
Take your 3D Bitmoji
Video chat with up to 16 people at once
See Community Stories, breaking news, and Original Stories
See where your friends are on a map – location sharing optional
Free cloud storage for saving your Snaps
Create new Stories with saved Snaps
Use the Charms feature to find people with things in common
Lots more
How cool is all that!
Be aware
Be careful what you are sharing with others – while you might delete your Snaps, the recipients may have saved them as screenshots or on their cameras.
We're not done yet
How to Download Snapchat:
Downloading Snapchat is dead simple – just open the app store on your iPhone or iPad and find it or tap the link below. When the app page opens tap on the Download button;
As simple as that
Wait, there's more
Snapchat can easily be used for free because it offers plenty of features for you to use. There are in-app purchases available and, while you may not want them, others who use your device can easily rack up the credit card charges – especially if your children use your iPad or iPhone. Disabling in-app purchases altogether is quite simple; open Settings > Screen Time and tap on Content & Privacy. From there, you can disable them.
Don't miss out
Snapchat s one of the best messaging apps, offering a lot of fun features and cool way of interacting with people. Download it and get more app recommendations by following us on Facebook.
*Found a broken link? Help us by reporting it below.