Are you looking for a cool messaging app? A great way of keeping in touch with friends and family? Look no further than WhatsApp, one of the best messaging apps and with some cool features.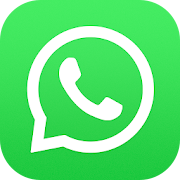 The best bit?
It's completely free
What's the story?
What is WhatsApp?
One of the top messaging apps in the world, more than 1.5 billion people use it every month for connecting with others all over the world. With your own WhatsApp number, you can easily interact with friends and family using the internet connection on your iPhone or iPad.
But
Because it is a telephony app, it only works on the iPhone; no support is provided for any other iOS device. And, because it does use your device internet, you could be liable for data charges -call your provider to check.
We're not done yet
App Features:
Free to download and use
Uses your iPhone internet – data or Wi-Fi
Used for voice calls, video calls and messages
Send and receive photos, videos, and documents
Free calls anywhere in the world*
Group chat supported
Web app you can use with your login
Always-on so you never miss calls or messages
The optional location sharing feature
Messages always saved even when your iPhone is switched off
Ideal for business and personal use
Notification sounds and wallpapers can be customized
Lots of other features
* emergency calling to 999/112 or other emergency numbers is not supported
It doesn't get any better
Let's move on
How to Download WhatsApp:
Download WhatsApp onto your iPhone from the iOS app store or click the link below and click Download when WhatsApp opens in the store:
As easy as that
The official app store is full of messaging apps, but few of them offer the features that WhatsApp has, and few, if any, are completely free with no in-app purchases. This one makes staying in touch very easy, not just for friends and family but for business contacts too. Many businesses now use WhatsApp, partly to stay up with the times and partly to ensure they never miss an important call.
It's your turn
Try WhatsApp on your iPhone today and see just how easy it is to use and what it can offer you in terms of both business and fun personal features. It's completely free, so you've nothing to lose by trying it. For more app recommendations and tips, follow us on Facebook.
*Found a broken link? Help us by reporting it below.