Great screen recorders are hard to come by, but we've got the answer, AirShou, one of the best screen recorder apps ever released for iOS and Android. Even better, It's free. So, Is there a catch?

How to Download AirShou:
No, there's no catch. It even works on Android devices as well as iOS and is very easy to download on both platforms.
Method 1: iOS Only
In fact, there are two ways for iOS users to do this, and it will work on iOS 7 or above. If you are on iOS 9 or higher, there are extra features on offer:
Go to Safari on your device and tap one of the download buttons above ( or download Panda Helper app to install from there ).
Tap Allow on the page that opens and then go to your home screen
Tap on the app to see the installation progress; you can pause the process or restart it if you need to.
When you see the app icon on your home screen, go to your Settings app
Open General>Profiles and find the profile name
Tap on it and then tap Trust
Now you can tap on the app icon and start using it
Method 2: IPA File
The second method requires Cydia Impactor, your Mac or PC, your Apple ID, and the .ipa file:
Download the Cydia Impactor app for your system
Now tap the link above to download the .ipa file
Open Cydia Impactor, connect your iPhone or iPad and wait for it to be detected
When it is,, drag and drop the .ipa file into Cydia Impactor
Sign in with your Apple ID/password and click OK when the Expired Certificates warning message opens
Wait while Cydia Impactor loads your file, and you see the icon on your homepage
You cant use AirShou yet; a couple more steps first
Go to Settings on your iPhone or iPad
Open General > Profiles and find AirShou or your Apple ID in the app list
Tap it, tap on Trust and close down settings
Now you can use the app
Method 3: Android Only
For Android users, the .apk file has to be installed:
Go to your Android Settings app and open Security
Find and enable Unknown Sources; if you don't you can't install the file
From your mobile browser tap the link above to download the .apk file
Go to your downloads folder, find the .apk and tap to start the installation
When it's all done, the AirShou icon is on your home page ready to use.

AirShou App Features:
AirShou offers users a load of cool and useful features explained visually in the infographic below.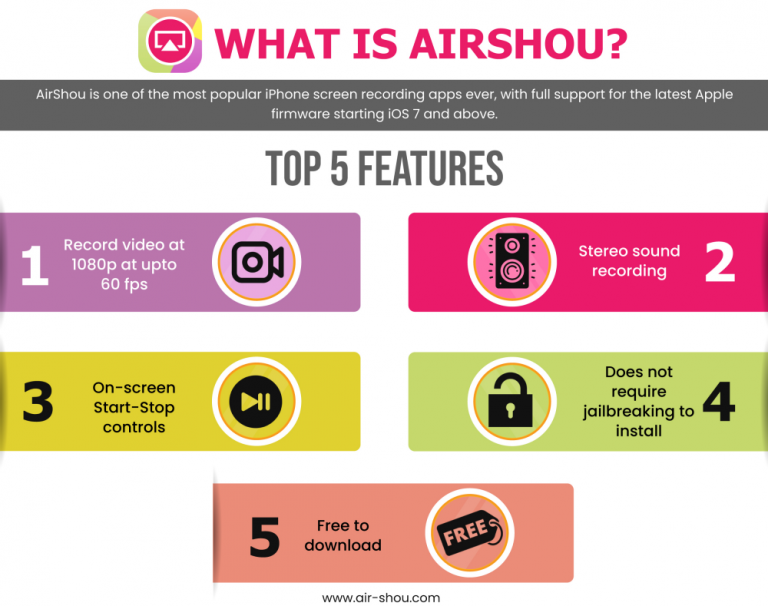 It's completely free
You don't need to jailbreak
It doesn't use up all your device resources
Record in 1080p at up to 60fps
Stereo sound can be added
Record anything you want on your screen
Simple controls
Many more features
How to Delete AirShou:
There isn't one. If you don't like AirShou or it doesn't work for you, just delete it from your device:
Method 1: App Delete
Find the icon on your iOS home screen
Tap and hold until it starts to wiggle
Tap on the "x" in the corner of the app icon
Tap Delete on the confirmation message, and it will be removed immediately
Method 2: Profile Delete
Go to your iOS Settings app and into General
Tap on Profiles and find the AirShou profile in the apps list
Tap it and then tap the Delete Profile button
Close Settings, you will find AirShou has been removed
Let us know what you think of it and follow us on Facebook for more great tips like this. Check out the infographic below.