Are you looking for a game with a difference? Bloons TD is one of the most fun tower defense games, very challenging and highly addictive.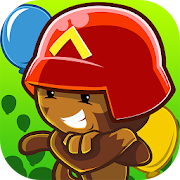 Here's the kicker
It isn't free. It will cost you $4.99 to purchase, and that doesn't include any special features – that's where the in-app purchases come in.
Want to know more?
Then read on
What is Bloons TD?
It is one of the top-rated tower defense games in the world, giving you an addictive and challenging ED game that you can play for hours on end. Use a combination of towers, Heroes, upgrades, and abilities to build up your defense and then pop those Bloons – every last one of them.
Sound fun?
Let's dive in
App Features:
Build your defense and pop those Bloons
3D gaming with great graphics
Hours of challenging gameplay
Fabulous monkey animations and skins
37 different maps
21 monkey towers
3 different upgrade paths on each tower
Tier 5 upgrades – so powerful that they can only belong to one monkey
Place one of 8 unique monkeys in each game each with 20 upgrades
Each Hero has two Bloon-shredding capabilities
Craft your own strategy around each hero
Customize gameplay with skins and voiceovers
More than 100 meta-upgrades
Play anywhere you want – single player works offline
New Bloons added regularly
Each game difficulty gets new game modes
iPhone X widescreen mode supported
tons more
it doesn't get any better than this
We're not done yet
How to Download Bloons TD:
This is as simple as downloading it from the official iOS app store on your iPhone or iPad, or you can just click the link below and then click Download on the app page:
Beware
You are in for an addictive time and you might, just might be tempted to hit the Purchase button to get special effects and features. If you don't want to do that or you share your device with others, open your Settings app, and tap on Screen Time. Then tap on Content & Privacy and disable in-purchases.
Over to you
Bloons TD is one of the most action-packed tower defense games ever released and, while it isn't free, it does offer you a great game for your money. Download it onto your iPhone or iPad today and get popping and shredding those Bloons.
Share your thoughts on the game with us and get more recommendations and tips by following us on Facebook.
*Found a broken link? Help us by reporting it below.