Looking for a cool soccer game? Look no further than Dream League Soccer, one of the best and most exciting soccer games in the iOS app store. And the best bit?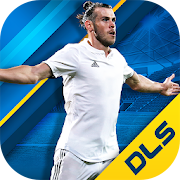 It's free
Dream League Soccer Download:
All this fun can be yours today. Just go to the iOS app store, search for Dream League Soccer and download it straight onto your iPhone or iPad:
It's that simple
What is Dream League Soccer?
The idea behind Dream League Soccer is that you build your team from scratch and lead them to victory. You start by naming your team; your equipment needs to be carefully designed, and your team needs a captain. Your march to victory begins with matches against some quite mediocre teams from across Europe; beat them and leave them in the dust in your relentless pursuit to be the best of the best.
It's not all about playing though; along the way, your stadium needs to be improved. Your team needs to try out new strategies, and you need to be sure your starting lineup is the right one by keeping an eye on their stats.
None of that matters when you go into the game simulator though; this is where the real fun begins. You have just three buttons to play with – Pass, Center, Shoot – and that is more than enough for you play a game of real soccer as you pass the ball deep, dribble it down the field, make walls shoot at goal and so much more.
Wait, there's more
Game Features:
Sign up top FIFPro licensed players to create a dream team
Train and play your way through six leagues to the very top, the Elite Division
Realistic gameplay powered by AI
Pit your team against the best in the world with Dream League Online
Take part in regular events
Win tournaments to earn medals and prizes
Customize your team how you want it
More than cup competitions
Build your stadium and improve it along the way
Train your players and develop your strategies
Game Center achievements
Season objectives to keep you coming back
Import or customize kits and logos
Use iCloud to sync between devices
Exclusive soundtrack
So much more
However
While this is a free game, there are in-app purchases. If you don't want them enabled, open Settings > General > Restrictions and disable them.
Are you up for the challenge? Download Dream League Soccer and prove yourself. Follow us on Facebook for more tips and tricks.
*Found a broken link? Help us by reporting it below.