Are you a fan of the GTA games? Then you will be thrilled by GTA: San Andreas. Packed with as much action as any GTA game, it is full of cool features.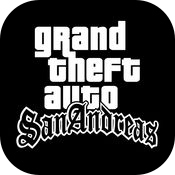 But there's a problem
Like all the GTA games, it isn't free. The price tag is $6.99, and that still doesn't give you everything – there are also in-app purchases for those that want to up their game.
Let's dive in
What is GTA San Andreas?
From Rockstar Games, GTA: San Andreas is the latest explosive installment. C is heading back to San Andreas to find his mother's murderer, back to the corruption, drugs, and gang warfare he thought he'd left behind. Framed for homicide, CJ has his work cut out for him in more than 70 hours of gameplay across three fictional cities as he tries to avenge his mother, pull his family back together and save his old friends from certain disaster.
Interested?
App Features:
Stunning, high-resolution graphics just for mobile devices
Updated character models
New lighting effects
Support for all Made for iOS physical controllers
Cloud support for game saves – Rockstar Social Club members only
Dual analog controller for movement and camera control
Customizable themes and controls
Supported devices – all iPads, iPhone 4S, and higher, iPod Touch 6th generation
Seven languages – Russian, English, Spanish, French, German, Italian, Japanese
Sound good?
Let's move on
How to Download:
You can only download GTA: San Andreas from the official iOS app store. Either go to the store on your device or click on the link below – tap Download on the app page:
It's that simple
GTA: San Andreas gives you everything you have come to expect from the GTA games – action, thrills, explosions, fun, and a whole lot more. However, while the game does offer a decent number of features in with the $6.99 price, there are a lot of features that you need to pay for. If you want to remove temptation or if you share your device with others, open Settings > Screen Time and go to Content & Privacy. From there, you can disable in-app purchases on your iPhone or iPad.
Don't miss out
GTA: San Andreas is another cool offering from Rockstar Games so download it, let us know how you get on with the game and follow us on Facebook so we can offer you more useful tips and app recommendations.
*Found a broken link? Help us by reporting it below.