Roblox is proving to be a massive smash hit. An MMO ( massive multiplayer online ) game, it is addictive, exciting, and more fun than we should be allowed to have.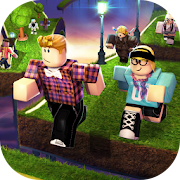 Want to know more?
What is Roblox?
Roblox is more of a platform than an actual game, supporting multi-user games created and uploaded by users the world over. It is a social platform, where players can go to hang out, chat, and play games. No matter what type of game you want to play, you are likely to find it in Roblox. There are thousands of games and players can track what they play, create their own online universes, collect badges, and more.
The user interface is a combination of Minecraft and Lego in looks, and Roblox can be played cross-platform with support for multiple platforms, including mobile.
Interested?
How to Download Roblox:
Getting the game on your iPhone or iPad is simple – just download it from the iOS app store:
It is free to download, but there are in-app purchases, such as virtual items. The free version is limited, but you can still have a lot of fun, and it is a massively popular platform with kids.
And there's the problem
Those in-app purchases could be a problem if your kids are the ones playing Roblox on your iPhone or iPad. Don't worry, disabling them is simple – open your Settings app and go to General>Restrictions and disable them there.
Wait, there's more
Game Features:
Roblox offers tons of features for all users:
Explore millions of worlds, all created by the community
New games every day
Games to suit all preferences and all ages of player
Social platform, come in, hang out and chat
Play games anywhere you go, whenever you want
Full support for multiple platforms and cross-platform playing – play anyone regardless of device
Encourages creativity
Give your avatar a unique look
New items added to the catalog daily
Private messaging and group messaging system
Works best on Wi-Fi
Loads more cool features
Over to you
You really don't want to miss out on this virtual world, a whole platform designed around user-created games. With new games added every day, you won't run out and, if you want a break from playing, stop for a chat with your newfound friends.
Roblox is a cool platform, download it and enjoy everything it has to offer. For more tips and tricks, you can follow us on Facebook.
*Found a broken link? Help us by reporting it below.