CokerNutX is a 3rd-party app installer with more than 1 million global users.

Follow the steps below to download the CokerNutX app on your iOS or Android device.
How to Install CokernutX on iPhone:
First, tap on the download link above to install the configuration profile
Select Install to proceed
Now go to your home screen, where you will see the app icon. Don't tap to launch it yet, or it will show an error message like this "Untrusted Enterprise Developer"
Now go to Settings > General > Profile and trust the app profile.
After it is done, you are ready to use the Cokernut App.
How to Install CokerNutX on Android:
Download the CokerNutX APK file from the link above.
Enable Allows from this Source option on Android
Start using the CokerNutX app on your android phone.
CokerNutX App Features:
A wide choice of apps and games, including 3rd-party content
Easy to install
User-friendly app
Offers SSL encryption for security
No need to jailbreak or root your device.
Works on all iOS and Android versions.
Completely Free to download and use.
Free from Malware and Viruses.
How to Add CokerNutX Repo to iPhone:
Launch Cydia or Sileo and go to Sources at the bottom of the screen
On Cydia, tap on Edit > Add or "+" symbol on Sileo.
Enter the following URL and tap on Add Source. https://repo.cokernutx.com

How to Install IPA Files from CokernutX:
Tap the download button above to download the IPA files of your desired app or game.
Install Altstore app on your iPhone.
Open the .ipa file using AltStore and install.
Note:
You will require a computer to install AltStore on your iPhone.
You can install only 3 apps at a time.
Installed apps need to be re-signed every 7 days using the AltStore app.
How to Delete CokertNutX:
Here are the steps to uninstall the CokernutX app from iOS and Android.
Method 1: For iPhone and iPad
Go to Settings > General > Profile
Tap on Profile name and tap on remove.
Confirm the selection, and the CokerNutX app will be removed from your iPhone.
Method 2: For Android
On your homescreen, tap on hold the CokernutX app icon
Tap on uninstall option to complete the delete process.
Frequently Asked Questions:
It is an unofficial app store packed with over 5,000 apps and games for iOS and Android users, including exclusive unofficial apps and games. Check out the ( infographic ) below.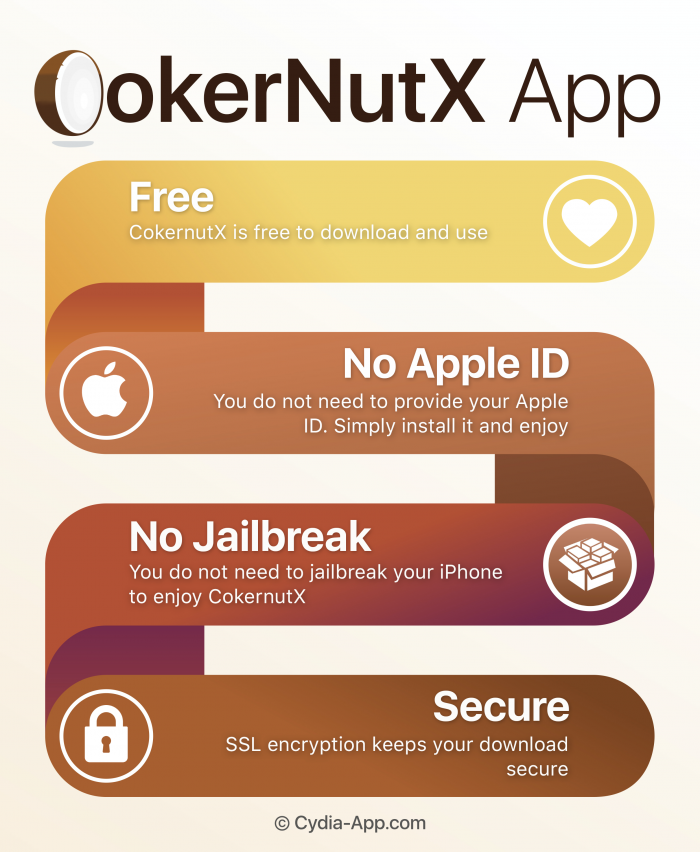 Yes, the CokerNutX app is completely free to download and use.
Yes, the CokerNutX app is completely safe for download and use. It has been rigorously checked with anti-virus software for its safety.
Can I Download IPA Files on CokerNutX?
Yes, you can download IPA files from the CokernutX IPA Library. Then install them using Altstore.
Does CokerNutX work on Android?
Yes, the CokerNutX app works on Android. Download the Cokernutx.apk file from the links above and install it on your android phone.
User Ratings: