AppCake offers you an easy way of directly installing IPA files onto your iPhone or iPad.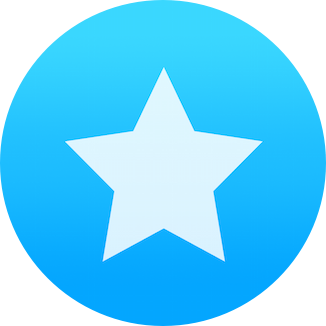 Click the button below to download the AppCake IPA installer.
How to Install AppCake:
Open the Safari browser on your iPhone or iPad
Tap on the download button above
You will get the prompt to install AppCake. Tap on Install to proceed.
Enter your passcode if asked.
Go to your device home screen and tap the AppCake icon. Start using it.
How to Trust AppCake:
Go to the Settings app and navigate to Profiles and Devices Management
Select the Enterprise profile for AppCake.
Tap on Trust on the AppCake profile.
How to Use AppCake:
Launch the AppCake app from your device home screen.
To sign an IPA file, download the desired IPA file with the Safari browser on your iPhone and send it to the AppCake application.
The IPA file will show up in downloads, then sign it.
How to Add AppCake Repo:
Installing AppCake on iPhone using Cydia requires jailbreaking and then adding a new repository. If you haven't installed a jailbreak yet, do so now using the given link, and then follow these steps below.
Launch Cydia on your iPhone or iPad
Tap on Sources at the bottom of the screen
Tap Edit > Add and type this URL into the box – http://cydia.iphonecake.com
Tap on Add and leave Cydia to install the repository
When it's finished, tap the Search option in Cydia
Type in AppCake and tap the result
Tap Install, and you will see the icon on your home screen when it's done.
Note: The jailbroken version of AppCake will need an additional Cydia tweak to run. The tweak is called AppSync Unified, and you can download it via Cydia. It gives you the ability to install IPA packages that are unsigned or artificially-signed on your device easily.
AppCake Features:
AppCake offers several useful features, including:
A vast database containing unofficial apps for free
AD-Free apps and games for iPhone and iPad
Easy to install using Enterprise Developers Profile
User-friendly interface that is easy to use
Torrent can be used for faster downloads
How to Delete AppCake:
Go to the Settings app
Go to Profiles and Select the AppCake profile and tap on the Delete app
You can also delete the AppCake icon from the home screen by doing this
Tap-and-hold the AppCake icon till it wiggles.
When it starts to wiggle, tap on the "X" on the icon to uninstall AppCake.
How to Remove AppCake from Cydia:
Open Cydia and tap on the Package Management section
You will see all the installed apps from Cydia; find AppCake and tap on it
The app home page opens in Cydia; tap on Modify
There are three options, Reinstall, Remove, Edit – choose Remove
Tap Confirm and the uninstall will go-ahead
Check your apps list again to make sure it has been removed
An alternative method is to use a Cydia tweak called PrefDelete; you will need to download it from Cydia first. It makes deleting Cydia apps and tweaks simple, with far fewer steps.
Frequently Asked Questions:
AppCake is an alternative app store, that allows users to install their own .ipa files of apps and games downloaded from the web, including the ability to install .deb files. Open it, and you will see it is designed much like the official app store. AppCake is one of the oldest Apple AppStore alternatives, and it has a packed database, full of apps and games, including 3rd-party apps. Check out the infographic below.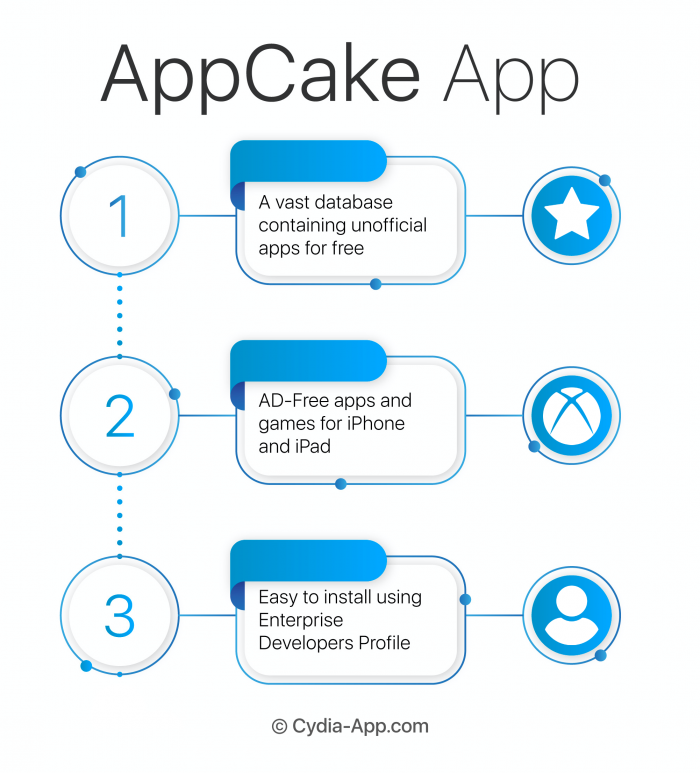 Yes, AppCake is Safe. There is no need to provide your Apple ID so Apple cannot track your activity and it won't have any adverse effects on your device, the iOS system, or anything else you run on your device.
Does Installing AppCake Void Warranty?
No, there is no way for AppCake to void your warranty. It is downloaded the same way that any appstore app is downloaded and, unlike jailbreaking, doesn't need root access to iOS. This means it doesn't open your device to malware and it does not interfere with any iOS security controls. Plus, depending on how you download it, you may need your Apple ID and that provides a further layer of protection because Apple will verify the app as OK to use. Should you find that you need to or you want to delete it for any reason, this is also easy to do.
How to Fix AppCake Installation Failed error
This error usually happens when you haven't installed the AppSync tweak on your jailbroken iPhone, and try to run AppCake. Make sure to download and install AppSync unified from Cydia.
How to Get AppCake without Jailbreak?
AppCake app can now be downloaded on your iOS device without jailbreaking. Simply download the configuration profile from the links on this page and install it.
How to Download AppCake APK?
There is no AppCake release for the Android OS. Hence you cannot download the AppCake APK on your android phone. You may download the HappyMod app if you want android apk files.
Does AppCake work on iOS 16?
Yes, the AppCake app is supported on iOS 16 firmware from Apple. You can directly download it on your iPhone without having to jailbreak your device. Use the tutorial above to install.
User Ratings: