Panda Helper is one of the best third-party app installers available to us right now; it has a huge range of apps and games, some modified and tweaked, all free. Millions of people use it daily and, while most have had no trouble there are reports of a couple of common errors that stop Panda Helper from working properly.
We're going to look at those errors and how to fix them. Common Panda Helper errors are the one listed below.
Panda Helper "Unable to Verify App" Error :

This is an irritation more than a serious problem and is caused by the app certificate being revoked. Find out why it happens and how to fix it in the article below :
"Could Not Be Downloaded at This Time" Error :
If you get this error message, there are a couple of things you can try the following steps .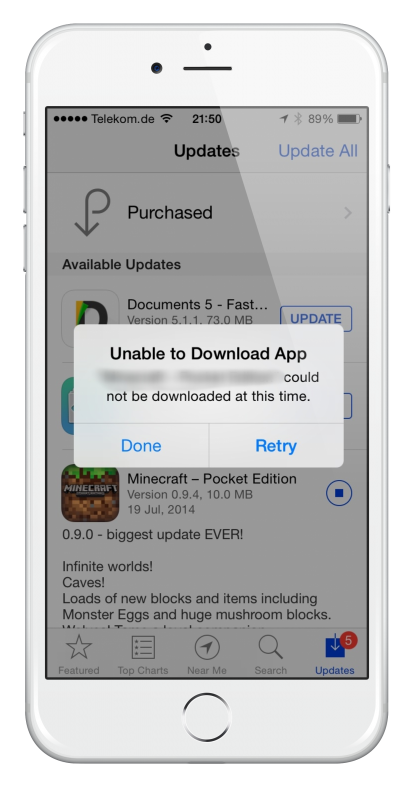 Reset Network Settings – Open Settings > Network > Reset Network Setting. Reboot your device and try again
Reinstall Panda Helper – if you keep getting this error, the best solution is to delete and then reinstall Panda Helper
Wait – if lots of people are attempting to download Panda Helper at the same time, the servers can be slow. Try again in a few minutes
Clear the Cache – clear the Panda Helper cache
Panda Helper Not Working :

Sometimes, Panda Helper won't even download or install, let alone work. The first thing to do here is check to see if you are running the correct version of Panda Helper and the most up to date one. Panda Helper is available in two versions ( Free and Paid ) . If you are trying to download the paid version and you haven't handed over any cash for it, it won't work. Also, make sure that you have the updated version of Panda Helper.  Other options for fixing this include clearing your cache and resetting your network settings as shown above.
Panda Helper No Profiles to Trust :
Recenetly many users have reported that they are unable to download Panda Helper Free. The Free version download takes directly to Profiles screen and there is No Profiles for users to Trust and proceed to next step. In this case you will have to first install the Panda Helper VIP by clicking on the ( link ) and the Install Panda Helper Free over that.
A Panda Helper App's Won't Work :
Sometimes a certain app or game from Panda Helper won't work, even though everything else does. The first thing to do is check to see if there are any developer updates available through Panda Helper , it may be that the app or game is out of date and won't work with the iOS version you are running on your device. Second, ensure that Panda Helper itself is up to date. The developers do release regular updates that are designed to fix errors like this and the only real way to ensure that Panda Helper stays working, along with all its apps and games, is to keep it fully updated. Delete and Re-Download the app will fix this issue.
Have you come across these errors while using Panda Helper ? Have these steps helped ? Let us know in the comments box and follow us on Facebook for more tips and tricks.
*Please let us know if the Download LINKS on this page are NOT WORKING.